Appearance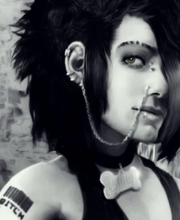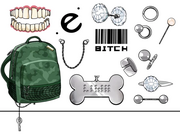 Personality
Relationships
Development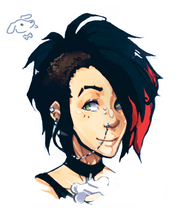 Trivia
Lime's favorite color is green.[1]
Lime is a non-practicing Catholic, bearing faith and celebrating holidays but not attending religious ceremony.[1]
Lime's dog tag is in Braille, but it only spells "Lime" visually. In the Braille alphabet, it spells "V L (the third and fourth symbols are not part of the Braille alphabet).
Lime is one of the few characters who could be reached through both the ask the characters tumblr and the ask-the-characters discord channel. He can still be reached at the latter by typing @ + his character icon or by mentioning his name in the ask-the-characters channel.
Notes
↑ 2.0 2.1 2.2 2.3 Author's blog (2016-2017) Retrieved 11/7/17
↑ Canon questions (ongoing author panel) (2017-present)
Scifi Quantum Drama Crime Romance Mystery Psychological
Mpreg Horror Ecchi Yaoi Anthro Guro Webcomic Smile | Pineapple Soda | Chat