Loquat is a mobster and pimp residing in Ninastoko, in Pineapple Soda.
Personality
His personality is unclear. He can be seen holding hands with and flirting with Sugar in his first appearance in which he comes off as gentle and even charming. But at times he seems to be more a hardened, brooding and gruff individual. It's not known if he switches between the two frequently or if one is in fact a façade for the other.
Appearance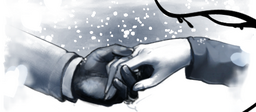 Loquat is a tall, very muscular and brooding individual with a heavy build and long auburn hair he wears pulled back into a ponytail. He has a soul patch style goatee and is usually seen wearing an orange, purple, or teal suit in typical pimp fashion of the day. He is not always carrying a cane, but it is typically black with a steel ball grip. His eyes are a deep purple and his face is framed with short curls that curl up under both ears.
Relationships
Trivia
Alanzo has been seen with the character Sugar in every one of his appearances thus far.
Notes
Scifi Quantum Drama Crime Romance Mystery Psychological
Mpreg Horror Ecchi Yaoi Anthro Guro Webcomic Smile | Pineapple Soda | Chat